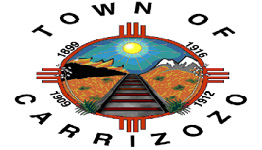 Town of Carrizozo
The Town of Carrizozo was incorporated in 1917.
It is a mayor-council government system. There are 4 trustees. The mayor breaks a tie.
Meetings are typically the 2nd Tuesday of the month.

Town departments include police, fire, airport, public works and the library.
Lincoln County
Carrizozo is the county seat. Many offices including the county manager, assessor, county clerk and Lincoln County Sheriff's Office are located in and next to the Lincoln County Courthouse on Central.

The Board of Commissioners meets on the third Tuesday of the month. During COVID, meetings have been held on Zoom.
12th Judicial District
There are 13 judicial districts covering 33 counties in the state of New Mexico.
The Twelfth District Court serves Otero and Lincoln Counties. The District Court hears both civil and criminal cases, including jury trials and some appeals. These cases take place in the courthouse.
The Magistrate Court is located just behind the Lincoln County Courthouse and hears landlord-tenant rights, traffic violations and preliminary felony hearings for Lincoln County.
State government
In the United States Congress, Carrizozo is in New Mexico District 1.
In the New Mexico legislature, Carrizozo is in Senate District 33 and District 56 of the House of Representatives.
.