Carrizozo offers high speed internet, superior cell phone connectivity, inexpensive housing, good schools, quiet (apart from the occasional train whistle), all surrounded by a vast and inspiring landscape, far enough away from impulsive distractions but only an hour or so drive to four universities and their mid-size cities.
Internet
Tularosa Basin Telephone Company/Tularosa Communications, Inc (TBTC/TCI) provides telephone and internet services in Carrizozo. Below is a map of current speeds through TBTC/TCI: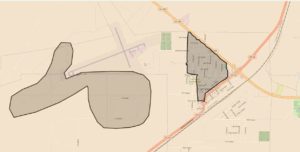 Cell phone coverage
T-Mobile, AT &T, Sprint and Verizon Wireless offer cell phone service.
Verizon Wireless is the registrant of two FCC registered cell phone towers  in Carrizozo.
Utilities
Otero County Electric Coop (OCEC) serves Carrizozo and has an office on 12th Street. Zia Natural Gas, in Ruidoso, serves Carrizozo with natural gas.